Growing up, I never liked soup. I'm really weird about warm liquids and always thought the idea of soup was gross. One day at Panera, I saw the light and have been obsessed with all different types of soups ever since. I could probably eat it every day and be perfectly content.
A few weeks ago my mom needed a recipe of some sort for euchre night she was hosting. She asked me to find a chicken tortilla soup recipe that seemed easy. She ended up not making soup, but had bought all the ingredients and I made it for dinner a few nights later. Below may be the easiest soup
recipe
in the world. The list of ingredients may seem slightly intimidating, but don't let it be. Honestly, the most work is cooking and shredding the chicken (I cooked boneless/skinless breasts cut into strips in a skillet and shredded it with a utensil as it cooked. Ok, I'm lying, my brother shredded it, but it looked easy.), everything else you just through in the slow cooker and call it a day.
It's so easy, so delicious, and pretty healthful! If any of you make it, let me know how it turns out!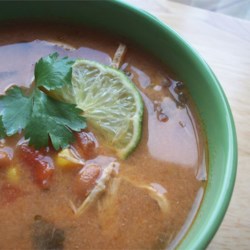 ** = my variation
Ingredients
1 pound shredded, cooked chicken
1 (15 ounce) can whole peeled tomatoes, mashed **(can use petite diced, any style)**
1 (10 ounce) can enchilada sauce
1 medium onion, chopped
1 (4 ounce) can chopped green chile peppers
2 cloves garlic, minced
2 cups water
1 (14.5 ounce) can chicken broth **(can use low-sodium/sodium free)
1 teaspoon cumin
1 teaspoon chili powder
1 teaspoon salt
1/4 teaspoon black pepper
1 bay leaf
1 (10 ounce) package frozen corn **(can also use 1 canned corn)**
1 tablespoon chopped cilantro **(can use dried, but dried is more potent, so just use a pinch)**
**I also added crushed red pepper flakes (eye-balled it), 1 can drained black beans, and garnished it with store-bought tortilla strips. Can also garnish with sour cream, shredded cheddar cheese, avocado.**
Directions
Place chicken, tomatoes, enchilada sauce, onion, green chiles, and garlic into a slow cooker. Pour in water and chicken broth, and season with cumin, chili powder, salt, pepper, and bay leaf. Stir in corn (and black beans, if you want) and cilantro. Cover, and cook on Low setting for 6 to 8 hours or on High setting for 3 to 4 hours.
Serve in a bowl and garnish as you wish! ENJOY!
Speaking of recipes, did anyone make the
pita pizzas
or
shrimp tortellini
? If so, what did you think?
Happy Friday!